Latest News
The social and cultural values of live music for cities
In a recently published article, Dr. Arno van der Hoeven and Dr. Erik Hitters examine the social and cultural values of live music for cities. To this end, they analysed live music reports and strategies from 7 different countries. This blogpost presents some of the main findings from their study.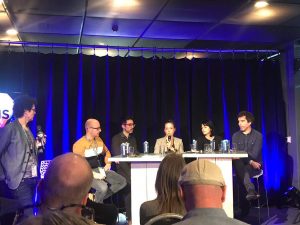 POPLIVE at the Eurosonic Conference 2019
What are the consequences of the superstar economy on the live music industry? On Friday January 15th the POPLIVE team hosted a panel on this topic at the conference of Eurosonic Noorderslag. Moderated by Erik Hitters and with a presentation of Martijn Mulder, the panel talked about the lessons from scientific research for the music sector. Read here a blog about the event.
More news
Staging Popular Music: Researching Sustainable Live Music Ecologies for Artists, Music Venues and Cities
POPLIVE is a large-scale research project on live music at the Erasmus University and the Rotterdam University of Applied Sciences, in collaboration with the VNPF and MOJO Concerts. The project is funded by the NWO as part of the Topsector Creative Industries.
The project is focused on how local live music ecologies can contribute to value creation in the careers of pop musicians, the position of music venues and festivals, and the local (urban) society in general. What is the role of live music ecologies in skill and talent development of young artists? What is a healthy balance between structural and temporary live music infrastructure? What is the value of live music ecologies for cities? In the project a mixed approach is used of both extensive quantitative, and intensive qualitative information.
On this website you can learn more about the POPLIVE project, the latest news, the team, partners and publications. Furthermore, we are more than interested to hear your opinion. So if you have any ideas, suggestions, comments or questions about the POPLIVE project, do not hesitate to contact us!
Read more