Latest News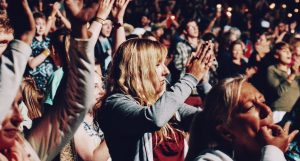 POPLIVE onderzoekt concertbeleving [in Dutch]
In het voorjaar van 2022 doet POPLIVE-onderzoeker Martijn Mulder onderzoek naar de publieksbeleving bij popconcerten. Concertbezoekers die deelnemen aan dit onderzoek worden voor, tijdens en na het concert gevolgd en ondervraagd door de onderzoeker: voorafgaand aan het concert vult de bezoeker een vragenlijst in over de motieven om het concert te bezoeken en de verwachtingen; tijdens het concert (tussen de muziek door) beantwoordt de deelnemer enkele hele korte vragen over de beleving op dat moment en meteen na afloop van het concert interviewt de onderzoeker de bezoeker over diens beleving tijdens en meteen na het concert. Door deze specifieke onderzoeksopzet, waarbij de beleving zoveel mogelijk in het moment gemeten wordt, hopen we een beter inzicht te krijgen in de beleving, de waarde en betekenis van het bijwonen van popconcerten. Deze kennis draagt bij aan het beter begrijpen en erkennen van de waarde van livemuziek voor individuen, helpt de sector de live-ervaring te verbeteren en kan beleidsmakers en subsidieverstrekkers helpen bij het waarderen van de popsector.
Indien je in april of mei een popconcert bezoekt en graag deel wilt nemen aan dit onderzoek, stuur dan een mail naar mulder@eshcc.eur.nl. Deelnemers ontvangen na afloop van het onderzoek een cadeaubon. UPDATE: op dit moment zoeken we vooral nog vrouwelijke respondenten voor dit onderzoek!

Dutch Live Music Monitor launched
POPLIVE presents the first Dutch Live Music Monitor, an overview of twelve years of live music in the Netherlands (2008-2019) consisting of almost 300.000 gigs by 30.000 artists. Among other things, the monitor describes the development of pop venues and festivals in general, artist's live careers, indexes of the most healthy live music cities, venues and festivals and trends in relation to genre and gender in live music.
The monitor and more information (in Dutch) can be found here. An English summary can be found here.
In a panel at the Eurosonic '22 conference, POPLIVE-researcher Martijn Mulder launched the report, presented the most interesting results and discussed these with a panel of Dutch music industry people. More information about the Eurosonic panel can be found here. ES delegates can watch the panel back via the ESNS website.
More news
Staging Popular Music: Researching Sustainable Live Music Ecologies for Artists, Music Venues and Cities
POPLIVE is a large-scale research project on live music at the Erasmus University and the Rotterdam University of Applied Sciences, in collaboration with the VNPF and MOJO Concerts. The project is funded by the NWO as part of the Topsector Creative Industries.
The project is focused on how local live music ecologies can contribute to value creation in the careers of pop musicians, the position of music venues and festivals, and the local (urban) society in general. What is the role of live music ecologies in skill and talent development of young artists? What is a healthy balance between structural and temporary live music infrastructure? What is the value of live music ecologies for cities? In the project a mixed approach is used of both extensive quantitative, and intensive qualitative information.
On this website you can learn more about the POPLIVE project, the latest news, the team, partners and publications. Furthermore, we are more than interested to hear your opinion. So if you have any ideas, suggestions, comments or questions about the POPLIVE project, do not hesitate to contact us!
Read more