July 9th, 2021
In 2021, we live in a world where virtual live music has become mainstream, at least temporarily. More than a year ago, the corona crisis turned the entire music sector upside down, forcing music venues, festivals and artists to find alternative ways to stage the artists' performances. Commissioned by POPLIVE, Pink Kattenberg developed a whitepaper to start a discussion about livestreaming experiences. Outlining various future scenarios, the paper provides the music industry a look into the future.
The 'new normal' in live streaming music has been developed by pioneers who have given the medium a fundamentally new dimension. Among other things, the whitepaper addresses the discussion whether virtual live music, i.e. live streaming, can be a sufficiently satisfying alternative to real live music. In terms of experience, there is currently no alternative to (physical) live music. Yet, this opens up opportunities and forms an incentive for developing innovations in the music experience. From 2020, COVID-19 became the turbocharger for innovation. The Research & Development of virtual music gained momentum through pilots and experiments. The industry is now asking: "what's next?". Are we going to the moon with live streaming? Or are we staying on earth?
In short: "what is the future prospect of the music sector in terms of the experience of live streaming?".
The research project POPLIVE analyses the value of live music. As a part of POPLIVE, this project also conducts research into optimising the experience of live stream music. In order to do so, this whitepaper is predominantly based on trend research (during a pandemic with its ever-changing issues and regulations, its continuous developments and real-time innovations) and best practices (testimonials). As a result, a scenario model had been developed to explore possible futures in an uncertain world and to better understand the (possible) future(s) of livestream music experiences. The aims of this model and the whitepaper are to achieve a vivid picture of the future of live streaming and to gain more insights into possible future perspectives of live streaming.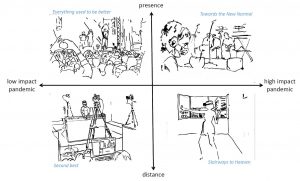 The whitepaper (in Dutch) can be found here.
This project was conducted by Pink Kattenberg as her bachelor thesis at Rotterdam University of Applied Sciences, commissioned by POPLIVE and Knowledge Center Creating 010, supervised by POPLIVE-researcher Martijn Mulder. For more information mail to mulder@eshcc.eur.nl