June 26th, 2020
"Livemuziek is leven. Het is een medicijn, een soort van therapie"
[scroll down for English]
Waarom bezoeken we popconcerten en –festivals? En hoe vaak doen we dat? Wat is het favoriete poppodium van de livemuziek consument, en het favoriete festival? Hoe denkt de concertbezoeker over smartphonegebruik tijdens de show? En storen we ons tijdens concerten nu echt massaal aan kletsende medebezoekers? Martijn Mulder van POPLIVE zocht het antwoord op deze en andere vragen en heeft de uitkomsten gebundeld in Het Grote LIVE Publieksonderzoek.
Na een paar maanden van Covid-19 maatregelen zou je het bijna vergeten maar 2019 was een topjaar voor de Nederlandse livemuziek industrie, misschien zelfs wel het beste jaar ooit. Miljoenen mensen bezochten concerten – van kleinschalige huiskamerconcerten tot in De Kuip – en muziekfestivals in alle soorten en maten. Aanleiding voor POPLIVE om wat meer inzicht te krijgen in die live bezoeker: wie zijn het, waarom geven ze massaal geld uit aan livemuziek en hoe denken ze over hun eigen gedrag en dat van medebezoekers tijdens een optreden? De oproep om mee te werken aan dit onderzoek, die door o.a. Mojo Concerts en Festivalinfo.nl gedeeld werd, werd door veel concert- en festivalbezoekers beantwoord, waardoor de resultaten een betrouwbaar beeld geven van de Nederlandse livemuziek consument.
Wat opvalt is dat we livemuziek voor veel meer redenen bezoeken dan de muziek en artiest zelf. Bij concerten speelt vooral het momentum een rol, het unieke van het moment zelf. Bij festivals gaat het de bezoekers vooral om het collectieve samenzijn en om het ontdekken van nieuwe dingen. Veel deelnemers aan het onderzoek benadrukken expliciet dat de livebeleving over veel meer gaat dan de muziek. Zo wordt vaak genoemd dat livemuziek gelukkig maakt, energie en zelfvertrouwen geeft, emoties oproept, mensen zichzelf laat zijn en als een vorm van therapie werkt.
[tekst gaat door onder de afbeelding]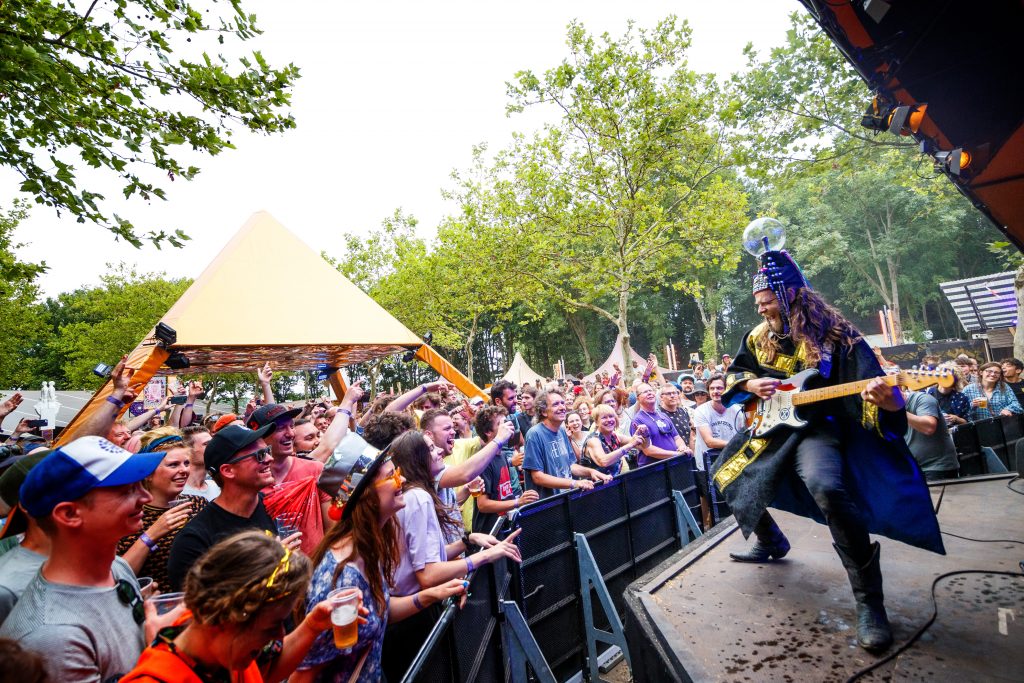 Maar toch, als we dan eenmaal in die concertzaal staan, dan ergeren we ons massaal aan anderen. Liefst 9 op de 10 concertbezoekers stoort zich wel eens aan het gebruik van smartphones door anderen tijdens de show. Bijna hetzelfde percentage van de bezoekers stoort zich ook nog aan anderen die met elkaar kletsen tijdens het optreden. Ook bij festivals stoort zo'n driekwart van de bezoekers zich aan filmende en pratende medebezoekers. Kunnen we daarom de conclusie trekken dat de massa zich stoort aan een klein groepje bezoekers dat foto's en filmpjes maakt en staat te kletsen? Zeker niet, want interessant genoeg geeft ook bijna 9 op de 10 van diezelfde respondenten aan zelf hun smartphone te gebruiken tijdens concerten. Van de mensen die aangeven zelf foto's en video's te maken tijdens de show, stoort 80% zich aan anderen die dat ook doen. In het geval van mensen die praten tijdens het optreden geldt hetzelfde effect, hoewel hier 'slechts' 53% van de respondenten aangeeft zich er zelf ook schuldig aan te maken. Hier is sprake van wat in de wetenschap de attitude-behavior gap genoemd wordt: er kan bij een individu een verschil zitten tussen de attitude over een bepaald onderwerp en het eigen gedrag. "Ik erger me enorm aan de zee van smartphones voor m'n neus maar kan me niet bedwingen om af en toe zelf ook een foto of filmpje te maken".
Meer van dit soort inzichten, en ook antwoord op vragen als "wat is het favoriete poppodium van de Nederlander?" en "Willen we liever met munten of pinpas betalen tijdens festivals?", is te vinden in het rapport hieronder. Voor meer informatie kun je contact opnemen met Martijn Mulder: mulder@eshcc.eur.nl
Het grote LIVE publieksonderzoek – POPLIVE 2020
English
Why do we visit pop concerts and festivals? How often do we experience live music? What's the most popular Dutch venue? What do concert visitors think about the use of smartphone cameras during the show? These and other questions are the subject of the Dutch live music audience research. POPLIVE researcher Martijn Mulder surveyed the Dutch live audience to get insights in live music behavior and preferences. As the report is in Dutch, here you find a short English summary of the most important results. For more information feel free to contact Martijn: mulder@eshcc.eur.nl.
Before the outbreak of the Covid-19 pandemic, the Dutch live music industry was flourishing. 2019 was probably the best year ever for the industry, with millions of people visiting ten thousands of concerts and music festivals. Beside the fact that there are many explanations for this success, we wanted to get better insights in the Dutch live music consumer; who are they, what motivates them, which parts of live performances do they like and dislike? Almost 1200 live music visitors participated in the research, making the results reliable for the whole Dutch live population. Here you'll find some of the most important results:
– nearly 100% of the live audience visited at least one pop concert during the year 2019 (which means that there are hardly any people who only visit music festivals and no concerts). Over 30% of the live audience didn't visit any music festival in 2019.
– on average men visit more concerts a year than women do. Festivals are most popular by people belonging to Generation X and Millennials.
– the most important motivations for visiting concerts are the artist/music and uniqueness; the most important motivations for visiting festivals are togetherness and discovery. Other important motivations are escapism and being there.
– 9 out of 10 concert visitors feel bothered by other visitors using their smartphone for taking photographs or video's during the show; almost 9 out of 10 (86%) feel bothered by other visitors who are having a conversation during the show.
– at the same time 86% of the respondents admits to take photos and video's themselves. 80% of the people who use their smartphone camera during the show are bothered by others who do the same. 53% admits that they sometimes have a conversation during the show themselves.
– 3 out of 4 concert visitors prefer to pay cashless at the venue; much smaller shares prefer tokens or rfid wristbands. At festivals, half of the visitors prefer paying cashless; 21% prefers to pay with tokens and 8% says it depends on the situation.
– Pinkpop and Lowlands are the most popular festivals in The Netherlands. The most mentioned reasons are the performing artists, the atmosphere of the festival and the people who visit the festival; Paradiso and TivoliVredenburg are the most popular pop venues (mainly because of the quality of the live experience and the performing artists) and Ziggo Dome (cap. 17.000) is by far the most popular other location.
Click here to find the report (in Dutch).